The T-Pattern Check Factor

Symbol

CT

Sex Linked

No

Series

Known Linkages

Recessive Opal, Spread

Similar Factors

None

Interacts with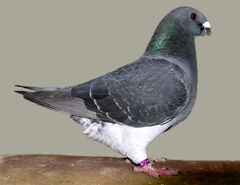 The most dominant of the pattern alleles this mutation causes the dark marking (check) feathers to be so severe that only a small 'T' of light ground colour is seen on the feathers of the wing shield. Sometimes these birds look like they have totally black wings. This checking or darkening is also seen on the back and breast of the birds as well as on the rump and lower back of very dark birds.
Breeds
[
]
Many breeds carry the T-pattern allele, and it is not at all hard to find in most stock.